Get your best smile back
A veneer is a thin prosthetic device bonded to the enamel and designed to change the colour, structure, position and shape of the original tooth.
They allow us to restore the aesthetic appearance of a healthy, young and bright tooth while preserving the original living tissue as much as possible.
Our dental practice in Geneva adapts to the most demanding schedules and private requirements of each patient. We guarantee a strict punctuality and offer an emergency service in case of necessity.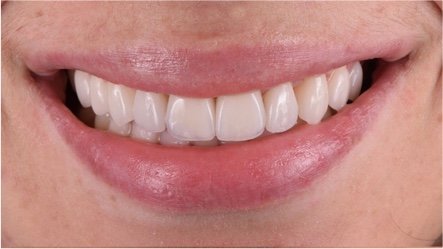 Veneers made in our dental laboratory
The complementarity of the doctor and the dental technician is the key to the quality of a veneer application, which is why we produce veneers in our own laboratory.
The real key to the quality of a veneer lies in its natural transparency and the study of all the functions that will define the longevity of the veneers.
The fitting of veneers is entirely linked to the knowledge and experience of the dentist, who will limit the polishing of living teeth as much as possible, and that of our ceramists, who are capable of creating extremely fine surfaces (0.4 mm) with all the subtlety of the gradations of translucency of the natural shine. This complementarity, a true team effort, guarantees the patient the success of the effective treatment plan.