Why make an appointment with a dental hygienist ?
The radiance of your smile and the perfect health of your mouth require two annual visits to the hygienist.
Comfort, aesthetics and prevention
The disappearance of stains, whiteness and increased brilliance through polishing are among the main aesthetic results of the treatment. It also provides a pleasant feeling of purity, fresher breath and improved taste.
Plan your appointments with our hygienists with ease!
Rhône Dental Clinic adapts to the most demanding schedules and private requirements of each patient. We guarantee a strict punctuality and offer an emergency service in case of necessity.
Airflow et le nouveau protocole guided biofilm therapy !
A must for a healthy smile, professional dental cleaning with AirFlow removes harmful plaque from teeth and gums.
Bacteria in dental biofilm damage teeth and their supporting tissues: gums and bones. But that's not all, these bacteria, which enter the body through the oral cavity, can also be interrelated with many diseases.
This protocol called GUIDED BIOFILM THERAPY combines professional dental cleaning with home oral hygiene: the best way to keep harmful biofilm under control.
The treatment at the practice is like a wellness cure. The treatment is painless and does not damage the teeth. GBT is a modern, game-changing protocol that no longer compares to the old prophylaxis methods.
Dental biofilm is treacherous.
It is invisible, odourless, undetectable.
And yet it is the main cause of tooth decay (caries), gum disease (gingivitis, periodontitis) and even tooth loss.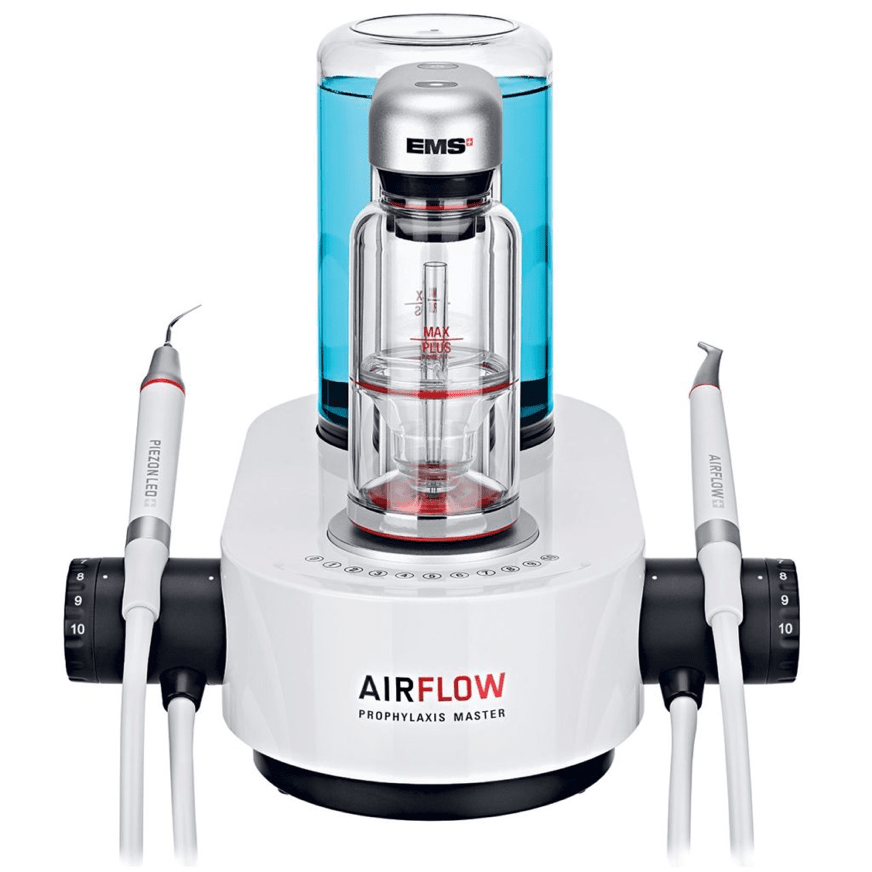 The halitosis test for fresher breath !
The medical term "halitosis" characterises bad breath in the mouth or respiratory tract. This is not a fatality, since this phenomenon originates in the mouth in 79% of cases and in the digestive tract or lungs in only 21% of cases.
As bad breath can be a real social handicap and remains a taboo subject, many people use drops, gums or lozenges that boast fresh breath. But while these products temporarily mask the problem, they do not solve it permanently.
In order to effectively combat this problem, our hygienists are equipped with a measuring method that displays the digital result of sulphur volatiles (VSCs) released by bacteria on a scale of 1 to 6 in a few seconds. They will then provide the necessary care and professional advice to eradicate halitosis.
The quality of the care provided by our hygienists guarantees the preservation of this major asset, oral health. Thus, patients who are rigorous in their follow-up with our hygienists consult us mainly for aesthetic reasons and very little for care.

The hygienists of our dental clinic in Geneva adapt to your sensitivity
Dr. Christophe Gachet and our dental hygienists are based on the fundamental principle that the care essential to health is based above all on prevention.
Committed to offering our patients the highest quality of care with maximum comfort, our clinic's practitioners are experienced and trained in pain management using Dr. Gachet's protocols. Our hygienists can offer you manual scaling, without using vibrating ultrasonic instruments that can cause sensitivity. In case of dental hypersensitivity, a local anaesthetic can be administered to make the treatment more pleasant.
Make an appointment now in our clinic